Online Registration is Now Open
Click HERE to register. If you have any questions you can contact the Elementary office at 660-265-1404 or the High School office at 660-265-1406.
2021-22 School Breakfast & Lunch
Milan C-2 will continue to offer FREE MEALS to all students through a grant. The Free and Reduced Lunch documentation/application is crucial to many funding mechanisms and ALL families are strongly encouraged to complete the application each year. The district will continue the FREE MEALS for as long as possible.
Click on the links below to print the forms.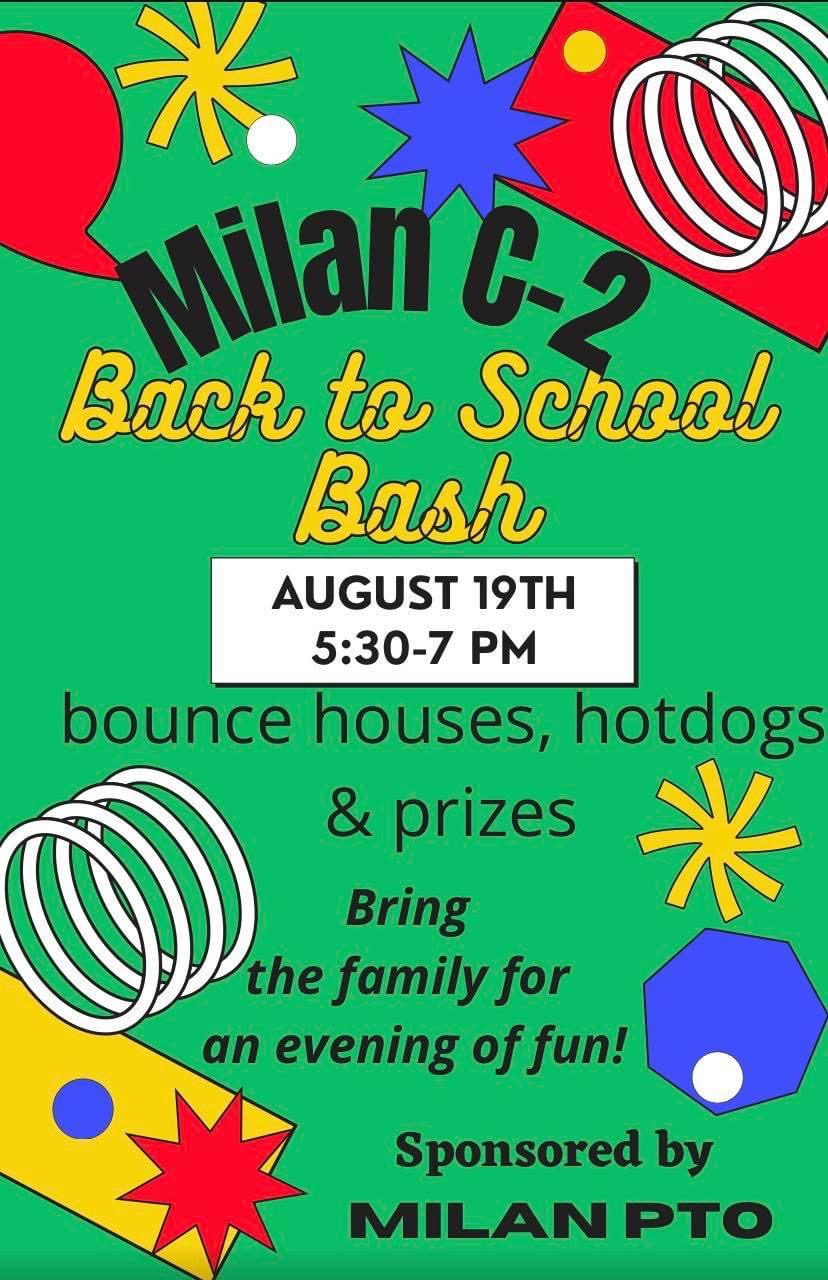 Back to School Bash 8/19/21 5:30-7:00 pm
2021-22 Elementary Student Handbooks
2021-22 Elementary Activity Fee and Field Trip Permission Slip
2021-22 Elementary School Supply Lists
2021-22 High School Student Handbooks
High School Students
Morning Procedures
High School students- On Monday, 8-23-21 students riding the bus will enter through the Ag doors. Drivers/parent drop off, walkers will enter through the NEW NORTH door. Students eating breakfast will do so in the cafeteria and then go to the elementary gym. Those not eating breakfast will go to the elementary gym upon arrival and wait for the first day assembly starting at 7:55. Make sure and be at school by 7:45
Vo-Tech Students- Please report to the high school office at 11:00 am on Monday, 8-23-21 for the first day of school. We will gather the needed information from you at that time.
Enter the building via the NEW NORTH MIDDLE DOOR by the new gym and report to the office.
ATTENTION ALL 2021-22 ATHLETICS PARTICIPANT PARENTS OF GRADES 7-12:
Go to this website for the required online registration (including uploading completed Sports Physical) to be eligible for the start of practice in August for Fall Sports. https://milanwildcats.e-ppe.com/
Click HERE for more information and instructions.
Need a physical form? Click HERE!
Click HERE to go to MSHSAA Website!